Course details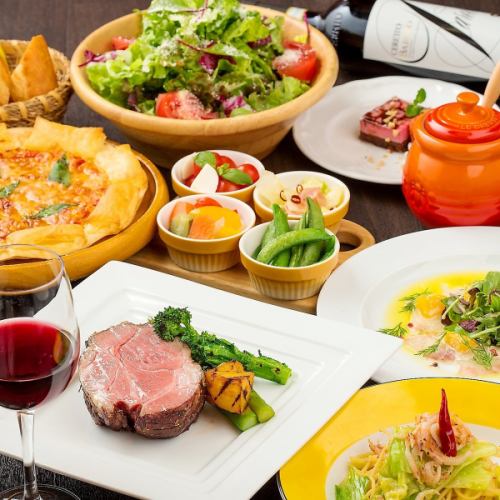 "Casual Party Course" 2 hours with all you can drink ☆ Easy party ♪ 【8 items 6500 yen ⇒ 5000 yen】
By using a coupon5000 Yen
8items

50persons

~

All-you-can-drink available

★ ★ ★ All you can drink menu ★ ★ ★
Reasonable easy party course! Appetizers are Caprese and our popular raw ham platter, our main boiling pizza and seasonal pasta ♪ Desserts are plentiful in assortment of fruits & cakes ★
Menu
【1 item】 Caprese
【2 items】 Assorted raw ham
【3 items】 Caesar salad
【4 items】 Cheese French Fries
【5 items】 PIE PIZZA Margherita
【6 items】 Seasonal PASTA
【7 items】 Whey pork honey marinated roast
【8 items】 Fruit & cake platter
※ Buffet style.
=====================
◎ course of your description ◎
※ Reservation required one week in advance is required.
※ All you can drink (30 minutes before the last order)
* All you can drink at + 500 yen S Plan grade UP available.
※ Friday, Sunday and public holiday will be 5500 yen.
※ 50 people will be available.
※ We will correspond as much as possible according to customer's request such as amount, contents · time, please feel free to inquire.
All-you-can-drink menu
· 【A Plan】 Includes course fee ☆
· [BEER]
· Asahi Super Dry / Jandigaufu / Cassisvia
· [SOUR]
· Lemon Sour / Grapefruit Sour / Orange Sour / Acerola Sour / Calpis Sour / Muscat Sour / Blueberry Sour / La France Sour / Oolong High
· [WINE]
· Glass wine (Almaden red / white)
· [COCKTAIL]
· Cassis / Peach / Lychee / Gin / Vodka / Tequila (Orange / Soda / Grapefruit / Tonic / Oolong Tea)
· [WHISKY]
· Black Nikka Rich High Ball / Ginger High Ball / Cola High Ball / Lemon Squash High Ball
- [SOFT DRINK]
· Cola / ginger ale / orange / grapefruit / oolong tea / acerola juice / acerola soda
0 0 0 closed payrence 0
· 【HONEY COCKTAIL】
· Honey Beer / Honey High Ball / Honey Gin Tonic / Honey Moscow / Honey Kitty / Honey Operator
· 【FRUIT HIGH BALL】
· Orange high ball / grapefruit high ball / Apple high ball / lemon high ball / lime high ball / pine high ball
· [WINE]
· Sangria / Sparkling / Kitty (Red + Ginger Ale) / Operator (White + Ginger Ale) / Keele (White + Cassis)
· 【FRUIT SPARKLING】
· Mimosa (Orange) / White Mimosa (Grapefruit) / Hawaiian Mimosa (Pine) / Citrus Mimosa (Lemon · Lime) / Bellini (Peach) / Kiel Royale (Cassis)
· [MILK COCKTAIL]
· Cassis milk / Peach milk / Lychee milk
Reservation deadline

Coming up to 7 days before 23 o'clock in the desired date
Available days for reservation

Monday - Sunday - Public holidays - Holidays
Coupons that can be used with this course
2018/06/06 update