Course details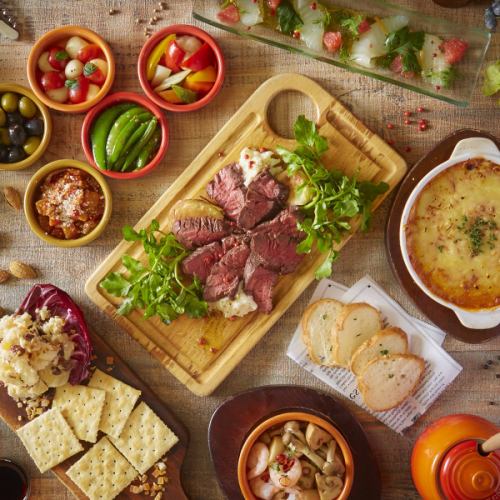 2 people only! Mainly luxurious sagari steak ★ 2 hours with all you can drink «Chef's Special Course»
By using a coupon3500 yen
6items

2

~

2persons

All-you-can-drink available

★ ★ ★ All you can drink menu ★ ★ ★
Full of original menu! 2 hours with all you can drink 2 course ~ Packed with carefully selected menu items you can order! Dry fruits with our No. 1 repeat rate and mousse carpone's mousse tailoring ~ With chef special specialty lasagna, more main It is content that you can satisfy with US Sagari steak ♪
Menu
【1 item】 Assorted Tapas 5 varieties
【2 items】 Mousse taste of dried fruits and mascarpone ~ With honey ~
【3 items】 Carpaccio of fresh fish and grapefruit
【4 items】 A shrimp with mushrooms
【5 items】 Special specialty lasagna
【6 items】 US sagari steak
※ our original with + 500 yen
Honey Gorgonzola PIE Pizza can be added!
=====================
Notes
※ All you can drink (30 minutes before the last order)
※ Friday, Sunday and public holiday will be 4000 yen.
※ It is a limited course for 2 people.
※ Cancellation, number changes and so on will be until the previous day.
All-you-can-drink menu
· 【A Plan】 Includes course fee ☆
· [BEER]
· Asahi Super Dry / Jandigaufu / Cassisvia
· [SOUR]
· Lemon Sour / Grapefruit Sour / Orange Sour / Acerola Sour / Calpis Sour / Muscat Sour / Blueberry Sour / La France Sour / Oolong High
· [WINE]
· Glass wine (Almaden red / white)
· [COCKTAIL]
· Cassis / Peach / Lychee / Gin / Vodka / Tequila (Orange / Soda / Grapefruit / Tonic / Oolong Tea)
· [WHISKY]
· Black Nikka Rich High Ball / Ginger High Ball / Cola High Ball / Lemon Squash High Ball
- [SOFT DRINK]
· Cola / ginger ale / orange / grapefruit / oolong tea / acerola juice / acerola soda
0 0 0 closed payrence 0
· 【HONEY COCKTAIL】
· Honey Beer / Honey High Ball / Honey Gin Tonic / Honey Moscow / Honey Kitty / Honey Operator
· 【FRUIT HIGH BALL】
· Orange high ball / grapefruit high ball / Apple high ball / lemon high ball / lime high ball / pine high ball
· [WINE]
· Sangria / Sparkling / Kitty (Red + Ginger Ale) / Operator (White + Ginger Ale) / Keele (White + Cassis)
· 【FRUIT SPARKLING】
· Mimosa (Orange) / White Mimosa (Grapefruit) / Hawaiian Mimosa (Pine) / Citrus Mimosa (Lemon · Lime) / Bellini (Peach) / Kiel Royale (Cassis)
· [MILK COCKTAIL]
· Cassis milk / Peach milk / Lychee milk
Reservation deadline

Coming to the store until the desired date of the day 18
Available days for reservation

Monday - Sunday - Public holidays - Holidays
Coupons that can be used with this course
2018/06/06 update